05-27-2015, 04:04 AM
Hans
Administrator


Posts: 4,240
Joined: May 2006
Reputation: 45
onArcade 2.4.2 released
onArcade 2.4.2 is out. This is a minor release, so there aren't huge changes, but there are several fixes and improvements that make it worth the upgrade.
Enhancements:
Mobile support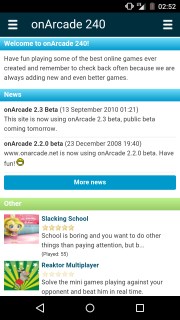 onArcade now works on mobile devices. Onarcade template is now responsive, it works on big screens and on mobile or tablet screens. In case you are using some other template that isn't yet responsive you can enable "Mobile template" in admin panel, this template will be shown only on mobile devices.
HTML5 feeds and feed languages

Famobi and Softgames HTML5 feeds have been added, together with "Only mobile games" filter. Also "Language" selection has been added to game feeds. Currently only FreeGamesForYourWebsite.com feed is available in multiple languages, but more multi language feeds are to be added soon.
EU cookie message

EU cookie law compliance message together with privacy policy (which is required by Google) has been added. Cookie message has been disabled by default, but in case you are based in EU you should enable it in admin panel.
Fixed bugs:
TAR installer issues on PHP 5.5+
Mochi features removed
Settings problem with strings that look like numbers
URL with ordering and no page number doesn't work
Query string in game feed game file URL creates errors
Players with same score get different rank in cup results
Improved full screen

System requirements:
Please note that onArcade 2.4.2 is the first onArcade that requires PHP 5.0 or newer.
Demo:
Demo is available at
http://www.onarcade.com/demo.php
Download:
Available in clients area
http://www.onarcade.com/Clients/Login
Upgrading:
Upgrading instructions are in readme.pdf. onArcade 2.4.0 and 2.4.1 templates are almost compatible with onArcade 2.4.2, only some minor changes are necessary. Couple of new language lines have also been added, these have not yet been translated in most of the languages listed here -
http://www.onarcade.com/Clients/Languages
-, so English message will be used instead until translated. Please let me know if you would like to help with any of the translations.
Let me know if you have any problems or need any help with the upgrade.
Upgrade service
In case you would rather let me do the upgrade for you then you can order upgrade service using this URL -
https://secure.avangate.com/order/checko...Y=1&CART=1
It costs 20 EUR (+ VAT where applicable). In case you are upgrading onArcade 2.4.0 or 2.4.1, it includes upgrading the template and any other modifications (best effort). In case you are upgrading some older onArcade version, it unfortunately isn't possible to upgrade your template or modifications, but I will upgrade your database and URL structure.
Let me know if you have any questions or problems!
User(s) browsing this thread: 1 Guest(s)