10-15-2011, 03:42 AM
(This post was last modified: 10-15-2011 06:58 PM by Hans.)
Hans
Administrator


Posts: 4,240
Joined: May 2006
Reputation: 45
onArcade 2.4 released

Time to upgrade your sites again. I have finished onArcade 2.4, you can now download it from
clients area
. It has several new features and bug fixes, so it should be worth the upgrade.
What is new?
New template files without PHP code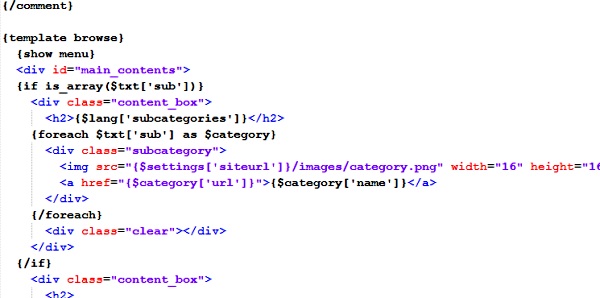 onArcade 2.4 has new template files that are completely without PHP code. Template code is basically the same as before when editing using template editor in admin panel, but now you can do this with any editor you wish. This should make template editing much easier for everybody.
Game feed auto downloader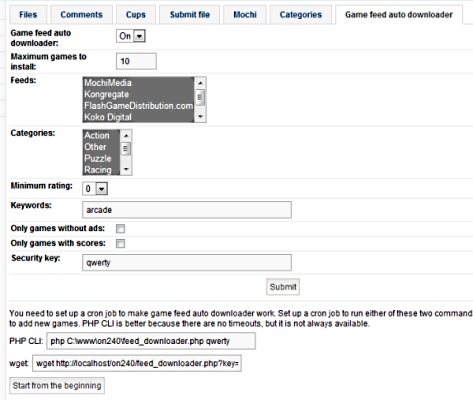 Now you can set up a cron job to automatically download new games to your site from game feeds.
Cups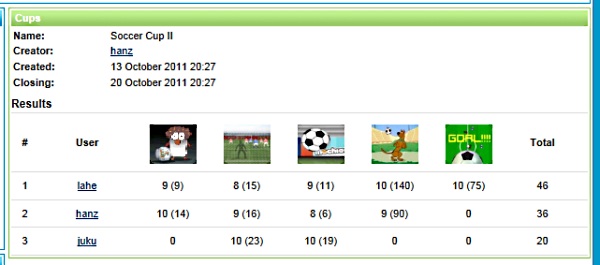 Now you and your site members can organize cups. Cup is an event where participants compete in several games (currently up to 5 per cup) to earn points and the one with the most points in the end is the winner. See
http://www.onarcade.net/
for examples of cups.
Notifications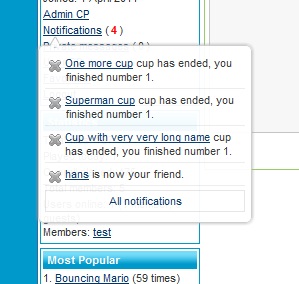 onArcade now has notifications system where you get notifications about scores, cups, friends and profile comments.
In page scoreboard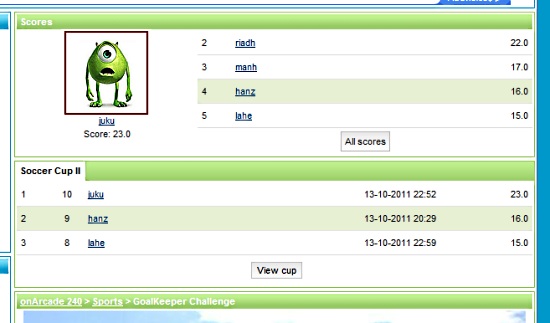 There is no separate scores page anymore, scoreboard is integrated right into game page. Plus in case of Mochi games there is no page refresh on score submition, scoreboard is updated using AJAX.
Add to your website with IFRAME

Add to your website code is now inside IFRAME and you can chose what is shown inside it.
New favorites system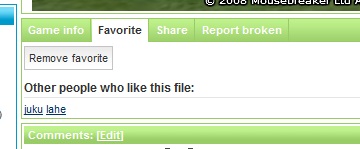 Favorites now have separate tab on game page and you can also see who has liked the same game.
Order category pages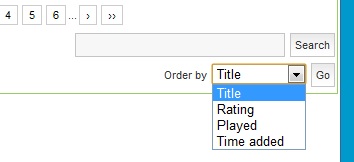 Visitors can now order category pages by title, rating, plays count or date added.
Upgrading
Upgrading instructions are in readme.pdf file. System requirements are the same as before, PHP 4.4+ (5.2+ prefered), MySQL 4.1, allow_url_fopen on or cURL for game feeds/packs, GD + FreeType library for image verification, and Apache mod_rewrite for search engine friendly URLs.
onArcade 2.4 has new template files, but old onArcade 2.3 style template files still work and with modifications it should be possible to make most onArcade 2.3 templates work with onArcade 2.4. I will be releasing these instructions soon.
If your language has been entered into languages system (
http://www.onarcade.com/Clients/Languages
) then you can translate new lines added in onArcade 2.4 when you go to clients area. If you do not have translator access to your language then please contact me and I will give you necessary privileges. All lines that have not been translated are replaced with English. If your language is not in languages system, but you have onArcade 2.3 translation that you would like to upgrade to onArcade 2.4 then read this topic:
http://www.onarcade.com/forums/showthread.php?tid=3301
Download:
http://www.onarcade.com/Clients/Licenses
Demo
http://www.onarcade.com/onarcade240/
UN: demo
PW: demo
I will now slowly start upgrading modifications and templates, I will also post template upgrading instructions as soon as possible. Please let me know if you have any problems upgrading or find any bugs.
User(s) browsing this thread: 1 Guest(s)